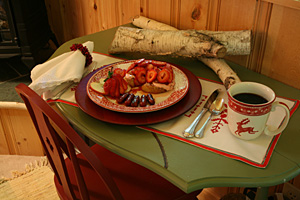 Your hot, gourmet breakfast is proudly presented in a beautiful basket at your door each morning! Specialties of the house include Stuffed French Toast on Croissants and Baked Eggs In A Sour Cream Nest. Each full breakfast is artfully arranged by Chef Vern and is a sight to behold! You may enjoy it in bed, at the cozy table in your room, or on your private deck. At Scandinavian Escape, you won't have to dress for breakfast!
Hot, freshly ground coffee is placed on the table just outside your door approximately one half hour before your breakfast arrives to allow you a nice, gentle wakeup time. Linny will provide an endless supply of coffee, in keeping with her Scandinavian heritage!
Our guests tell us our breakfasts are second to none!